Better Opportunities For Single Soldiers
The Better Opportunities for Single Service members program represents the voice of the single service member. If you are a single service member, BOSS members advocate for you by advancing quality of life issues on the installation and in the barracks to senior leaders on post and throughout the Army. "Let Your Voice Be Heard."
Clay Kaserne BLDG 1214 Wiesbaden 65205 Germany
+49 (0)611-143-548-9816
Military DSN (314)548-9816
| | |
| --- | --- |
| Monday | 9:00am-5:00pm |
| Tuesday | 9:00am-5:00pm |
| Wednesday | 9:00am-5:00pm |
| Thursday | 9:00am-5:00pm |
| Friday | 9:00am-5:00pm |
| Saturday | Closed |
| Sunday | Closed |
| Federal Holidays | Closed |
Email Us
Programs using this location:
Warrior Zone
Green Boot Certified Facility (read more about the program here)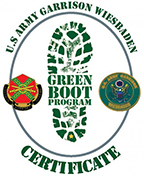 The Warrior Zone is a modern multi-purpose entertainment center for service members (and their guests) to socialize, relax, play games and to watch sporting events on large, high definition, flat-screen TVs.
The Warrior Zone offers:
Computer for use
Free Wireless
Movies in a home theater
Food and beverages for purchase next door
PLEASE NOTE: With proper distancing, the Warrior Zone can fit 20 people outside for BOSS Meetings, two people on each bistro table, properly spaced chairs, and/or standing. The facility can fit 18 people in the game room -- two per couch, one per standing table and four people at tables with the computer chairs. Potlucks and barbecues are permitted. Servers must wear face coverings and gloves. Patrons may not serve themselves. Be sure to observe social distancing at all times.
Clay Kaserne BLDG 1214 Wiesbaden 65205 Germany
+49 (0)611-143-548-9816
Military DSN (314)548-9816
| | |
| --- | --- |
| Monday | Closed |
| Tuesday | 12:00pm-8:00pm |
| Wednesday | 12:00pm-8:00pm |
| Thursday | 12:00pm-8:00pm |
| Friday | 12:00pm-8:00pm |
| Saturday | 12:00pm-8:00pm |
| Sunday | Closed |
| Federal Holidays | Closed |
Email Us
Programs using this location:
← Previous
1 (current)
Next →