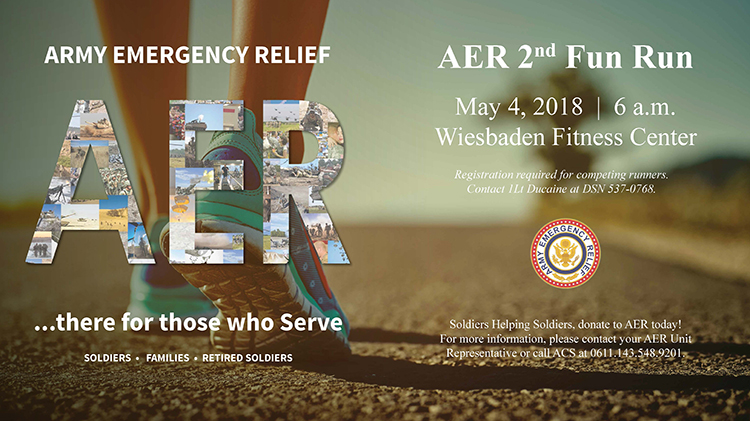 Note: This event has already passed.
Date: May 4 2018, 6 a.m. - 7 a.m.
Army Emergency Relief - Hainerberg Housing Bldg. 7790 Wiesbaden 65189 Google Map
Since Sept. 11, 2001, your generosity has helped Army Emergency Relief raise nearly $1 billion to help soldiers and their families during times of unforeseen financial distress.
The annual fund-raising campaign, which continues through May 15, gives the AER team the opportunity to teach military families about all that AER offers -- scholarships, grants and not interest loans -- to service members, retired service members, widows(ers) and orphans of a Soldier who died while on active duty or while retired. Your tax-deductible contributions help your neighbors. Someday you may need their help.
Everyone is invited to contribute to Army Emergency Relief during the 2018 AER Campaign from March 1 to May 15, 2018.
An AER Fun Run will be held on May 4 starting at 6 a.m. in front of the Wiesbaden Sports, Fitness and Outdoor Recreation Center. Unit formation time is 5:45 a.m. Following the run, Soldiers and families will have an opportunity to donate to AER at tables located in front of the fitness center and staffed by AER unit representatives.
Registration Info
To register for the AER Fun Run to be considered in the Best Male, Best Female and Best Running Team categories, contact 1st Lt. Ducaine at DSN 537-0768.
Contact
Military DSN Tel:

(314)548-9201