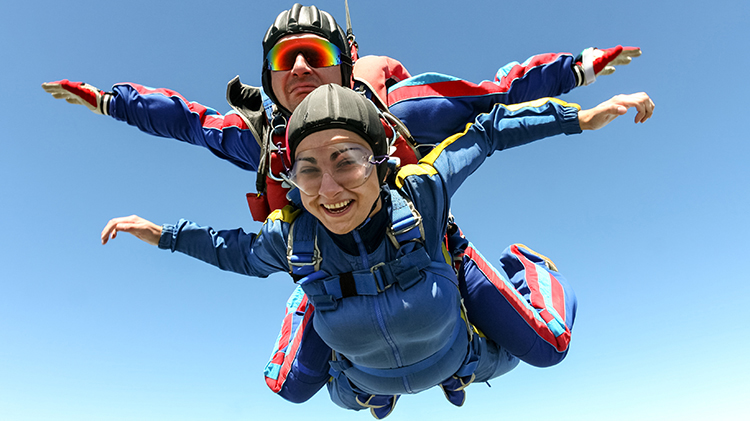 Note: This event has already passed.
Date: Aug 19 2017
Outdoor Recreation - Erbenheim Flugplatz Wiesbaden 65205 United States Google Map
Jump into the friendly skies near Bitburg, Germany, without going through extensive training. You will be given about a 15-minute briefing by your tandem master before jumping together. The jump will take place at an altitude between 10,000 and 13,000 feet above sea level. Thanks to a special harness, you will be securely connected to your tandem master. During the flight you'll get a beautiful view of the Eifel region. Once jumping height is achieved, you'll take the plunge and during the roughly 45-second free fall you'll reach speeds of up to 125 miles per hour. The parachute will open at around 1,500 meters giving you a five to 10-minute gentle float down to the safe landing.
Read about a recent Wiesbaden Outdoor Recreation Skydiving Adventure on the Army Home Page.
Cost
Cost is $299 per person (for jumpers), $49 per person (for non-jumpers).
Price includes round-trip transportation, instruction and the fall of a lifetime. Videos are available for purchase from the vendor.
Registration Info
*** Please note: Skydiving trips will be cancelled one week prior to trip departure if minimum participation levels are not met -- so reserve your space as soon as possible. Registration deadline is Aug. 11.
Prior to accepting registration and payment over the phone, a customer must verify their ID card holder status in person and finalize the creation of an account in our payment system.
Contact
Military DSN Tel:

(314)548-9830/9801