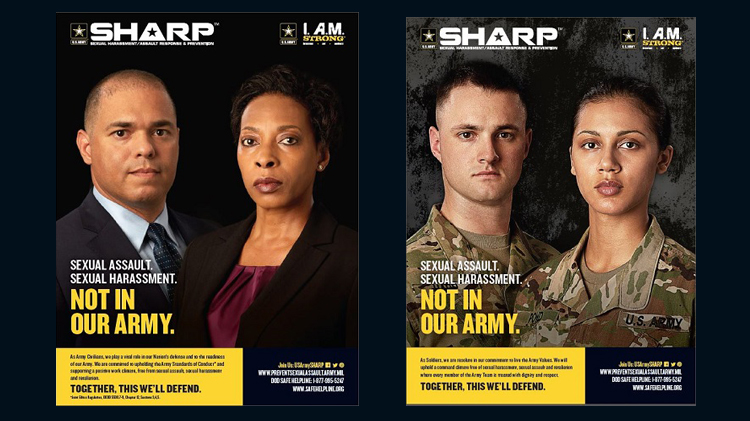 Sexual Assault Awareness and Prevention Month Events
Note: This event has already passed.
Date: Apr 19 2018, 6 a.m. - 8:30 a.m.
Army Community Service (ACS) - Hainerberg Housing Bldg. 7790 Wiesbaden 65189 Google Map
Various events will be held throughout the month of April during Sexual Assault Awareness Month. Activities include:
SHARP Amazing Race -- This event takes place on April 19 from 6-8:30 a.m. at the Wiesbaden Sports, Fitness and Outdoor Recreation Center on Clay Kaserne. The race is a timed group event requiring teams to use clues to locate five activity stations at which teams will solve SHARP challenges. Once a station is solved, the team will receive the clue to the next station. Upon completion of all stations, the team will complete a final physical challenge. Participants must register their team of five and a team name by April 13 at the Eventbrite website at https://www.eventbrite.com/e/2018-sharp-amazing-race-registration-41863313297. On the day of the race, team check-in begins at 5:45 a.m. and closes at 6:15 a.m. Uniform for military personnel is appropriate service physical training uniform (unit shirts are authorized).
Strike Out Sexual Assault Bowling Event -- This event takes place from 2-6 p.m. on April 13 at the Wiesbaden Entertainment Center. Community members are invited for an afternoon of bowling to increase awareness of the problem of sexual assault. The cost of bowling will be $5 for three games and shoe rental.
Denim Day (April 25) -- is an internationally recognized awareness campaign, originally triggered by a ruling by the Italian Supreme Court where a rape conviction was overturned because the justices felt that since the victim was wearing tight jeans she must have helped her rapist remove her jeans, thereby implying consent. The following day, the women in the Italian Parliament came to work wearing jeans in solidarity with the victim. Denim Day was developed in response to this case and wearing jeans during this annual event has become a symbol of protest against erroneous and destructive attitudes about sexual assault. Commanders may authorize their personnel to wear civilian attire, in the specific form of denim, on that day.
Drive Out Sexual Assault Golf Scramble -- This event takes place from 9 a.m. to 2 p.m. on April 26 at the Rheinblick Golf Course. Teams of four must register through Eventbrite at the following link: https://www.eventbrite.com/e/2018-drive-out-sexual-assault-golf-scramble-tickets-41864700446. Registration will end on April 18. The cost is $45 per individual and includes golf cart, club rental, range token and lunch (sandwich/cheeseburger, fries and drink). Fees will be paid to the Rheinblick on the day of the event. Community members are invited for a day of golf in an effort to "Drive out Sexual Assault" and "SHARP: Shaping the Culture of Trust."
Cost
See above for costs.
Registration Info
See the links above in the event descriptions.
Contact
Military DSN Tel:

(314)548-9201