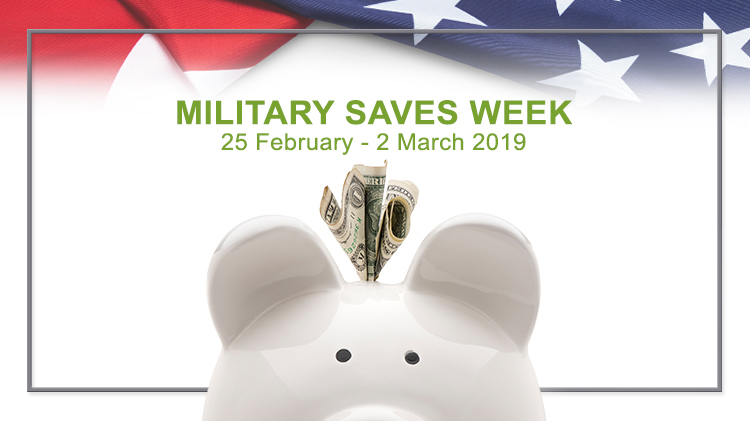 Note: This event has already passed.
Date: Feb 25 2019 - Mar 2 2019
Army Community Service (ACS) - Hainerberg Housing Bldg. 7790 Wiesbaden 65189 Google Map
Military Saves Week is an effort to persuade, motivate and encourage military members to save money every month and to convince leaders and organizations to be aggresive in promoting automatic savings.
Financial stability is about a lot more than knowledge -- it takes consistent action over time. Take the pledge today (at militarysaves.org):
Establish a financial plan
Save money
Reduce debt
Enroll in the Thrift Savings Plan (if eligible)
Several special events will be held in conjunction with Military Saves Week at the Wiesbaden Sports, Fitness and Outdoor Recreation Center. These include:
Financial Fitness @PT with the garrison command sergeant major:
Feb. 25, 6:30-7:30 a.m. -- Functional Fitness in the Fusion Room
Feb. 26, 6:30-7:30 a.m. -- Spin in the Spin Classroom
Feb. 27, 6:30-7:30 a.m. -- Power Fuse in the Fusion Room
A Saving and Investing Class with the personal financial counselor will be held on Feb. 27 from 10-11:30 a.m. at Texas Str. 57, Apt. 3, in Hainerberg Housing.
Additionally, an information display, "Money Concepts for Children," will be on display during normal hours of operation Feb. 25 to March 2 at the Wiesbaden Library.
Registration Info
Register for the Saving and Investing class at Army Community Service. No registration necessary for the other events.
Contact
Military DSN Tel:

(314)548-9201