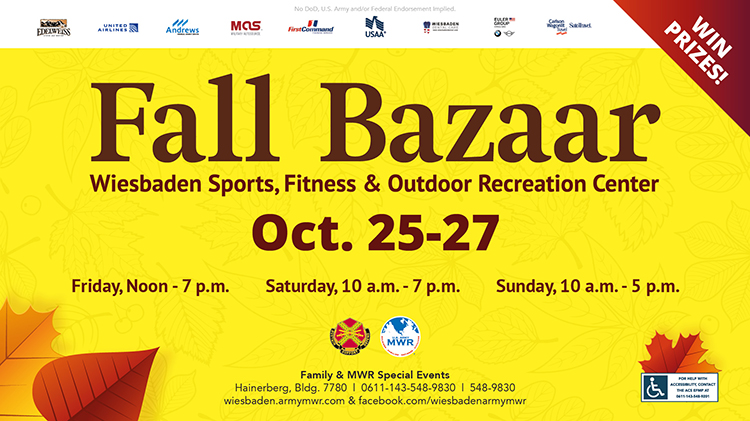 Note: This event has already passed.
Date: Oct 25 2019, 12 p.m. - 7 p.m.
Wiesbaden Sports and Fitness Center - Clay Kaserne Bldg. 1631 Wiesbaden 65205 Google Map
Community members can get a head start on their holiday shopping during the annual Fall Bazaar Oct. 25-27 at the Wiesbaden Sports, Fitness and Outdoor Recreation Center. Shop for tax-free international goods ranging from furniture to pottery, carpets to wine and other items.
All sales will in U.S. dollars.
Prizes will be given away throughout the weekend -- including a two-night Edelweiss Lodge and Resort getaway. Enter to win a pair of round-trip tickets from United Airlines, and solve the MWR Pumpkin Patch Puzzle for a chance to win more great prizes.
Fall Bazaar hours are:
Oct. 25 -- noon to 7 p.m.
Oct. 26 -- 10 a.m. to 7 p.m.
Oct. 27 -- 10 a.m. to 5 p.m.
Here's a look at the various shopping opportunities:
ABDULLAH & MEGHDIR ORIENTAL RUGS Carpets
ALADIN GALERIE Afro-Asian handicrafts, room dividers, Tiffany screens, chess sets, patch work pillows, quilts, bronze brass statues, wood carvings
ALPHABET PHOTOGRAPHY LTD Photographs
ANDY'S POLISH POTTERY Pottery
ANTIKHANDEL DOELLINGER GBR Antiques
B&M DELICACIES Food
BELUX SA Pans & pots, olive oil
CREATIVEDESIGNARTS Assorted wooden knick-knacks
ELLENS ALLERLEI Vinegar, Oil, Schnapps, Liquor
EMIN GMBH Carpets
EXCLUSIVE LIVING FURNITURE Solid wood furniture, Belgien beer
FAMILY ROOTS Heraldic swords, shields, etc.
GIOVANNI FILOMENA CUTERLY Cooking knives, flatware
GIURA, ALESSANDRO Italian food
GUENTER ARNOLD Antiques/clocks
HOLZ ART Assorted knick-knacks
IRISH SWEATER CENTER Irish sweaters
JANICE NAKLADAL DE MASCARENHAS Jewelry
LA DOLCE VIGNA (SUASTENE) Wine
LITTLE BOX KITCHEN British cheese, traditional steamed puddings, homemade pasta sauces and fudge
LUCKY SHEEP Sheep furs, rugs, wool socks, wool items, African curios
MAGIC FLAME WOODBURING Wood items
MANNINI ITALIAN BED TEXTILE Bed sheets
MEDITERRANEAN CERAMICS MALTA Lava and volcanic stone tables, ceramics.
MISCHLER & RAUDONAT Schnapps
MONSCHAU MUSTARD Mustard
MUGGENDORF-FACTORY Nutcrackers
MY GIFTS Glass ornaments
OLD DUTCH CHEESE Cheese
OLGA'S CHEESE Cheese, wooden shoes, slicer
OSKAR ARNOLD'S FURNITURE & GIFT SHOPS Furniture
PAJOR, KATALIN HANDPUPPETS Hand puppets
SPADARO, ALESSANDRO Statues made of lava stones, globobar, capodimonte porcelain, glasses with gold decorations, religious items
STEIN, LUDMILA Sterling silver jewelry, bracelets, stainless steel jewelry
TEMPLERS VERTRIEBS-GMBH Wine and whiskey
WAHLART'S KUNSTHANDEL MARKUS WAHL Pictures
WAJOS DIE-GENUSSMANUFAKTUR/R&K Peiffer PGMBH Vingar/Oil/Liquor
WEINHAUS FRIEDRICH DAUDISTEL Wine
Thank you to our commercial sponsors!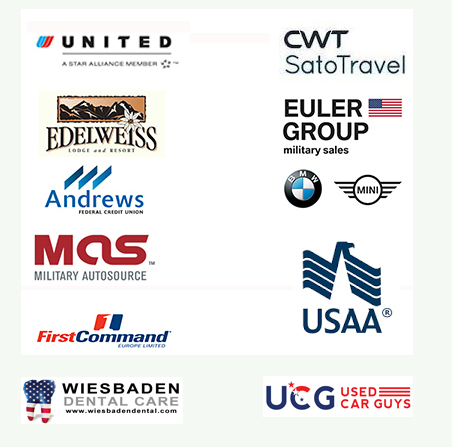 Registration Info
No registration required.
Contact
Military DSN Tel:

(314)548-9830