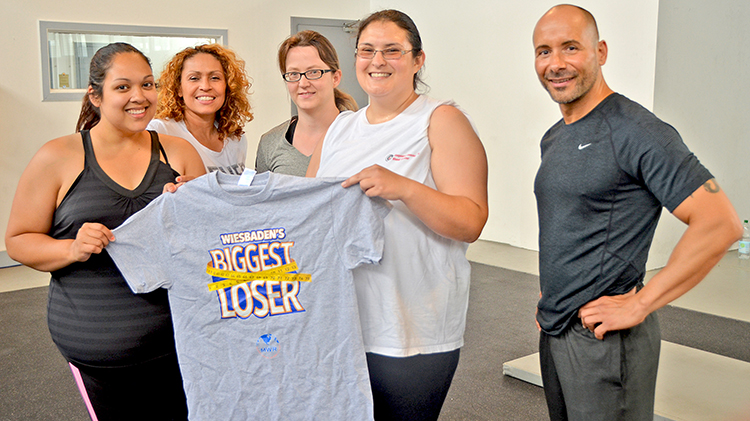 Biggest Loser Challenge 2019
Date: Feb 19 2019, 9 a.m. - 10 a.m.
Wiesbaden Sports, Fitness and Outdoor Recreation Center - Clay Kaserne Bldg. 1631 Wiesbaden 65205 Google Map
Wiesbaden's Biggest Loser Challenge is a 10-week-long weight reducing program that uses fitness, health education and nutrition awareness. It is intended for individuals who are trying to lose weight or experience a fitness transformation to enhance their everyday lives.
Participants will train in a group setting and get discounts on fitness classes, personal trainer sessions and massages. Each training session will be lead by a certified trainer with sessions on Tuesdays and Thursdays from 9-10 a.m. and 5:30-6:30 p.m. Individuals can choose to attend either the morning or evening sessions -- OR both.
All participants will meet with the trainer on Feb. 18 for a fitness assessment -- tape, BMI, height and weight, and to fill out the Par-Q and receive additional information. Fitness assessment times on Feb. 18 are from 9-10 a.m., noon to 2 p.m. and 4-6 p.m.
Winners of the Biggest Loser Challenge (most weight or percentile of body fat lost) will win prizes.
Cost
$180 per person; $235 for couples. Included in the price are a hard copy or digitized fitness binder with exercises and recipes, orchestrated fitness classes, two educational fitness seminars on topics pertaining to fitness/nutrition, a local fruit market trip.
Registration Info
Register at the fitness center.
Contact
Military DSN Tel:

(314)548-9830/9801